Tour Booklets – Now available – click here for details.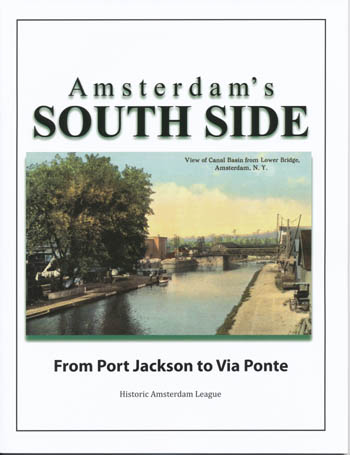 Postcards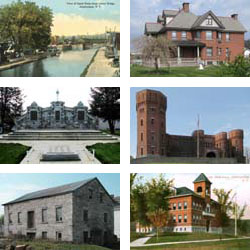 The 2012 second annual HAL series of six Amsterdam postcards includes two antique reprints – one of the Erie Canal and canal basin and one of the 5th Ward School, and four contemporary views of the Sweet Canal Store, the 5th Ward Veterans Memorial, the Gray-Jewett Mansion, and the Amsterdam Armory.  In the late 19th and early 20th centuries there were literally hundreds of postcards of Amsterdam printed.  These cards were a source of civic pride and showed friends, relatives, and acquaintances worldwide that "this is Amsterdam".  Few cards of Amsterdam have been produced recently, and the Historic Amsterdam League intends to rectify that now, and through the coming years.  Pick up a set of the 2012 cards to start or add to your HAL collection, or an individual card or two to send out into the world and once again announce that "this is Amsterdam".
Orders
"Amsterdam's South Side" postcard sets (1 each of all 6 designs) may be ordered for $6.00 each, postage and handling included, directly from HAL by sending your order and payment to:
Historic Amsterdam League
P.O. Box 132
Amsterdam, NY 12010
Individual cards may be ordered for $1.00 each, (plus $1.00 for postage and handling for up to 6 cards).  If ordering individual cards, please be sure to specify the design as identified above and the quantity of each design desired.