Didn't get to the 2014
"Amsterdam's Rockton" tour?
Forgot to get a tour booklet or postcards?
Just realized what a great gift a tour booklet and postcard set would make?
Need to continue the HAL postcard and tour booklet collection you started in prior years?
Don't worry – we have you covered
Tour Booklets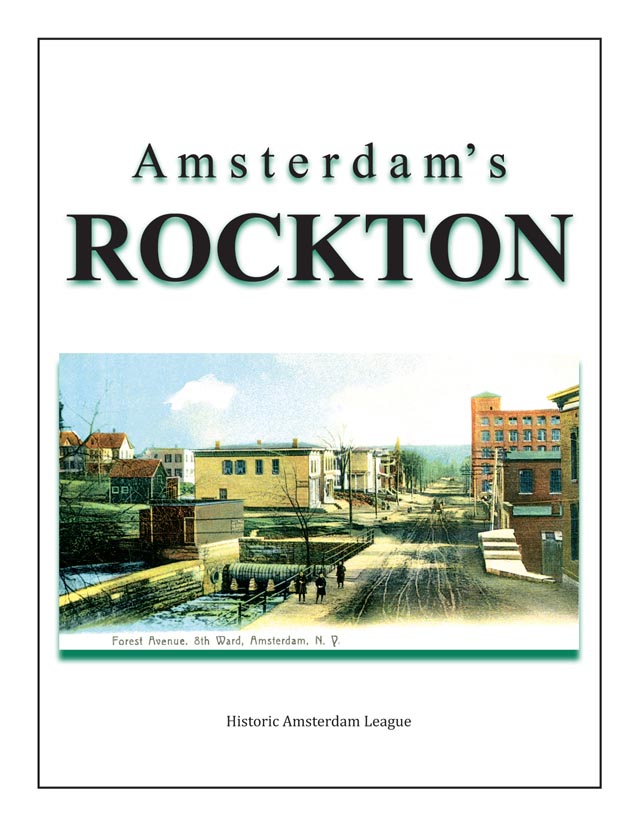 Professionally produced and printed, this year's 40 page Rockton booklet – all images and information, no commercial advertisements – is well on its way to becoming another collector's item.
Don't be disappointed – when they're gone, they're history.
Postcards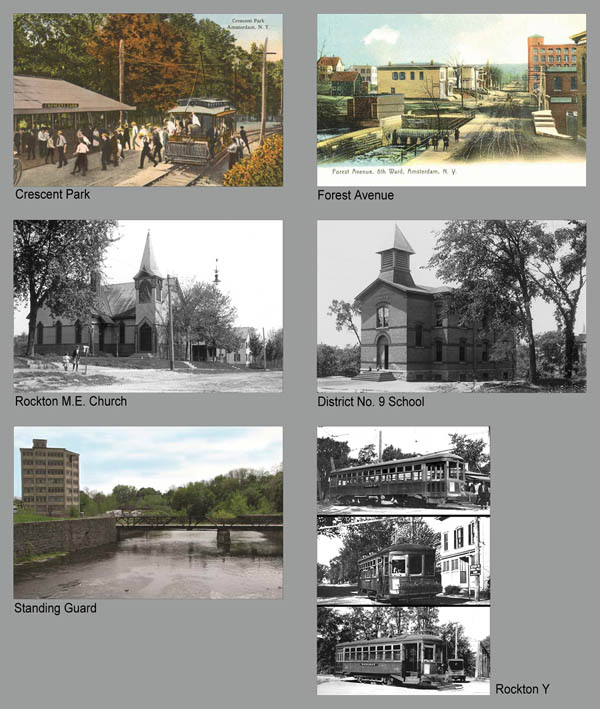 The 2014 fourth annual HAL series of six Amsterdam postcards includes two antique reprints – the trolley station at Crescent Park and an early view of Forest Avenue from Lyon Street, two antique photo postcards from original John Arthur Maney photographs of the Rocton Methodist Episcopal Church and the District No. 9 School, courtesy of the Montgomery County Dept. of History & Archives, one 3-view composite of trolleys at the Rockton "Y", and a contemporary view of the last remaining major building still standing guard at the site of the "Upper Mills".  In the late 19th and early 20th centuries there were literally hundreds of postcards of Amsterdam printed. These cards were a source of civic pride and showed friends, relatives, and acquaintances worldwide that "this is Amsterdam". Few cards of Amsterdam were produced in recent years until the Historic Amsterdam League initiated production of annual sets in 2011 in conjunction with the neighborhood tour programs: the HAL series now includes 24 cards, and will continue to grow through the coming years. Pick up a set of the 2014 cards to start or add to your HAL collection, or an individual card or two to send out into the world and once again announce that "this is Amsterdam".
Orders
"Amsterdam's Rockton" booklets may be ordered for $10.00 each, and complete postcard sets (1 each of all 6 designs) may be ordered for $6.00 each, postage et al included, directly from HAL by sending your order and payment to:
Historic Amsterdam League
P.O. Box 132
Amsterdam, NY 12010
Individual cards may be ordered for $1.00 each, plus $1.00 for postage et al (up to 6 cards).   If ordering individual cards, please be sure to specify the design as identified above and the quantity of each design desired.
The 2014 Rockton booklets are also available while supplies last at The Book Hound, 16 Main Street in Amsterdam.