*** Special Web Price Offer ***



Amsterdam Icons 2018, HAL's annual  full color 12-month calendar,

is available at the locations listed below and by mail directly from HAL



xx

What was going on in Amsterdam in 1918?
The Historic Amsterdam League is pleased to once again offer an original 12 month wall- size (11″ x 17″) calendar for the coming year, Amsterdam Icons 2018, the seventh in our annual calendar series. Amsterdam Icons 2018 returns to 1918, to the events and challenges that faced Amsterdamianians a century ago, both overseas and at home, in the climatic year of the First World War.  Through color and classic B&W photo collage illustrations and expanded monthly and centerfold text, Icons 2018 presents the reality of wartime -  Liberty Bond campaigns, supporting service organizations, combating food and fuel shortages, the great personal sacrifices made to end the "Great War" – and events and questions brought directly to the local and personal level – the great influenza pandemic, the "wet vs dry" debate, the triumph and failure of "modern" technology. Scattered throughout the monthly date listings, in addition to the usual holidays and observances, are important, entertaining, and often little known dates from local history – the first local suffragette meeting, the death of Stephen Sanford, the last issue of the Amsterdam Morning Sentinel…
XXXXXXXXXXXXXXXXX
Amsterdam Icons 2018

is now available

from:
XXXXX

The Book Hound – 16 Main Street, Amsterdam
Liberty Fresh Market – Rt. 30, Amsterdam
The Walter Elwood Museum Gift Shop – 100 Church Street, Amsterdam
The Amsterdam Free Library – 28 Church Street, Amsterdam
The Historic Amsterdam League - by mail – see

details below
XXXXXXXXXX
XXXXXXXXXXXXXXX
XXXXXXXXX
x

xxxxxx
Calendars will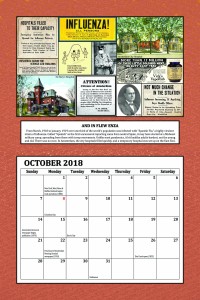 be on sale while supplies last – but don't delay, some year's Icons have sold out by New Year's. Journey with HAL through a year of Amsterdam's past from a century ago, know when Tax Day is next year, and find enough local trivia to win a friendly bet or two.
XXXXXXXXXX
Mail Orders
If you live outside the area, just prefer to have your calendar mailed to you, or would like to have us send Amsterdam Icons 2018 with a greeting as a gift in your name, calendars may be purchased by mail directly from HAL for the special web site only price of $9.00 each, first-class postage, handling, and tax included, by mailing your order and payment to the Historic Amsterdam League, PO Box 132, Amsterdam, N.Y. 12010.
XXXXXXXXX
Note: Please contact us prior to ordering for a quote for multiple calendars shipped to the same address as postage may be lower.
XXXXX
All proceeds from the sale of Amsterdam Icons 2018 will be used to support Historic Amsterdam League projects and local historic preservation efforts.