Amsterdam Icons 2021, HAL's historic full color 12-month calendar, will be locally available 12/10 as

shown below and can be ordered now

by mail directly from HAL

x

Amsterdam Fire Fighting – Volunteer and Early Department Days

The Historic Amsterdam League is pleased to once again offer an original 12 month wall- size (11″ x 17″) calendar for the coming year, Amsterdam Icons 2021, the ninth in our calendar series. Amsterdam Icons 2021 looks at Amsterdam fire fighting in its volunteer company and early department days, when fire wagons were horse drawn, steam pumpers had names like "J.D. Serviss" and "E.D. Bronson", and White, Federal, and Studebaker fire engines were stationed in satellite stations on neighborhood street corners.  Filled with classic mostly B&W photos and illustrations documenting the men, equipment, and places that defended Amsterdam from fire from the late 19th through the mid 20th century, the latest Icons still contains all of the usual listings of dates, holidays, observances, and entertaining local facts and trivia you've come to expect.
XXXXXXXXXXXXXXXXX
Amsterdam Icons 2021 – available

12/10

from:
The Local Peddler and Bakery – 175 Church Street, Amsterdam
Walter Elwood Museum – 100 Church Street, Amsterdam
Damiano's Flowers – 2 Hewitt Street, Amsterdam
The Historic Amsterdam League - by mail – see details below
X
X

X
X
X
X
Calendars will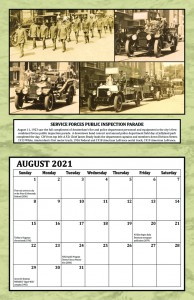 be on sale while supplies last – but don't delay, some year's Icons have sold out by New Year's. Take a year long journey with HAL and along the way discover when to set your clocks ahead, when the Antlers Clubhouse burned, and enough local trivia to win a friendly bet or two.
XXX
XXX
XXX
Mail Orders
If you live outside the area, just prefer to have your calendar mailed to you, or would like to have us send Amsterdam Icons 2021 with a greeting as a gift in your name, calendars may be purchased by mail directly from HAL for $15.00 each , first-class postage, handling, and tax included, by mailing your order and payment to the Historic Amsterdam League, PO Box 132, Amsterdam, N.Y. 12010.
XXXXXXXXX
Note: Please E-mail us prior to ordering for a quote for multiple calendars shipped to the same address as postage savings may be available.
XXXXX
All proceeds from the sale of Amsterdam Icons 2021 will be used to support Historic Amsterdam League projects and local historic preservation efforts.