Quarterly Membership Meeting
Nov. 15th, 6:00 PM – Amsterdam City Hall, 61 Church St.
Curious about the ongoing rehabilitation of the iconic Guy Park Manor? HAL will be hosting the NYS Canal Corporation for a dive deep into the details of the Guy Park Manor project as Rob Panepinto, the Canal Corporation's cultural resource specialist, shines a light on the preservation efforts, intriguing findings, and challenges faced by the team.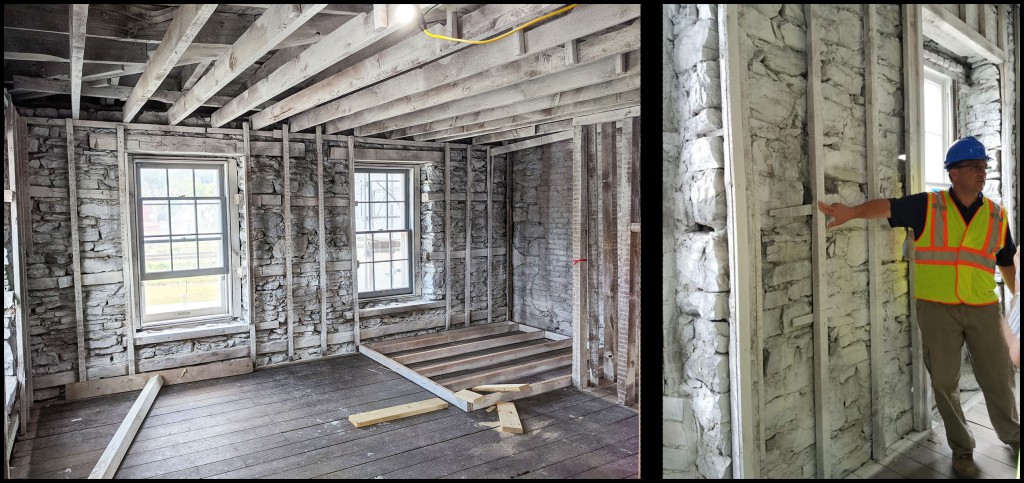 Everyone's welcome, so bring your friends! Let's come together to celebrate and learn more about a cherished piece of Amsterdam's history.
A brief business meeting in the Annex will follow the program presentation.
xxx

IMPORTANT NOTE
We recently discovered that E-mail that was being sent to the Historic Amsterdam League through the contact link on this website was NOT being forwarded to us despite the sender receiving an automated response that it was.  This condition has apparently existed since May 28th of 2023 and resulted from unannounced software and security setting changes made by third parties involved in the website E-mail chain.  The situation went unnoticed as E-mail addressed directly to historicamsterdam@gmail.com continued to be delivered normally and both appear the same in the inbox.  There is unfortunately no means whereby we can recover any undelivered E-mails sent through the website link.
The issue with the website E-mail link has now been corrected and it is again fully operational.  We are taking action to prevent a similar problem in the future and will perform periodic self-testing to verify continued functionality.
If you sent us an E-mail through the website link and did not receive a personal response (not the automated acknowledgement of receipt) please contact us again.  We apologize for the inconvenience and look forward to hearing from you.
Jerry Snyder, President
Historic Amsterdam League
Nov. 9, 2023
****************************************
xx

Thank You Everyone!
Ghosts of the Past 2023 was another sellout success
The Historic Amsterdam League would like to thank everyone that attended the Ghosts of the Past tours through beautiful full moon-lit Green Hill Cemetery this past Friday and Saturday night and had the opportunity to meet some of its "permanent" residents, hear their stories, and discover some of the little known, hidden, and forgotten corners of Amsterdam history.  We hope you found it interesting, informative, and entertaining.
A special "Thank You!" goes to all of our HAL members, friends, and supporters that volunteered their considerable time and effort to make it all possible, and to the following:
The City of Amsterdam
Green Hill Cemetery Association
Amsterdam Free Library
CDTA
Amsterdam Police Department
Amsterdam Tourism, Marketing, & Recreation Department
****************************************
xx

Now you can pay your HAL dues with your PayPal account.
xx

Click here for details
xx
*************************************
xxx

The Key to the Future is the Past
xxx

Welcome to HAL!
Welcome to the Historic Amsterdam League (HAL) web site. The Historic Amsterdam League was established in July of 2010 in conjunction with the celebration of the 125th anniversary of the 1885 chartering of the City of Amsterdam, N.Y.  HAL is a nonprofit and nonpartisan citizen based 501(c)(3) organization dedicated to the preservation, promotion, and protection of the physical, cultural, and natural heritage of the City of Amsterdam N. Y.
xxx
Please take a few minutes to explore our site, check out our publications, drop us a note, ask us a question, explore the links, and make yourself at home.  If you like what you see and believe that history and heritage aren't just what happened yesterday, but are the road that led us to where we are today and the path that can show us the way to tomorrow, consider joining us on that journey - we'd be honored to welcome you as HAL's newest member!
xxx
****************************
xxx
Join HAL Now!
Click here for membership application
X
********************************************
XX

Largest book yet – 56 pages with full color 8 page center gallery
*

Met the actors, artists, musicians, dancers, writers and other practitioners of the arts with "home town connections" in the 10th addition to the Amsterdam book series celebrating the culture, history, and heritage of our city.  Learn their stories and discover and enjoy their works.
xx

Click here for Details
xx

Available by mail and with

PayPal
xx

****************************************
xx

Click here for Details
xx

Available by Mail and with

PayPal



xx

****************************************




x




The first proposal for an arterial system for Amsterdam "to improve traffic flow" was presented in 1954.  It would be twelve years later before the demolitions that forever transformed our city began.  Many of these were chronicled in a series of illustrated newspaper articles which appeared in 1966-1967 as the Arterial Scrapbook, photos of individual buildings and street scenes with capsule histories dotted with nostalgia and memories;  some included more extensive accompanying stories.  Today, these Arterial Scrapbook articles are in many cases the sole reminders that these places, these pieces of our history, ever existed.  And a link to the past which, itself, could easily remain unknown or be forgotten.
xx

This section of the Historic Amsterdam League website compiles all 60+ articles of the Arterial Scrapbook  in one place, the only time they have appeared together.  Two viewing formats are available, allowing travel through the series by either time or space.  Additional period and current aerial and area photographs provide context and orientation whether recalling the Amsterdam you knew or discovering the Amsterdam before your time.
xx

Relax-Enjoy-Remember-Discover
xx

Click below to flip through the

xxx
****************************
XXX


All of the HAL Neighborhood Tour Companion Booklets from 2011-2019 are Still Available!

Through a special arrangement with the original printer HAL has been able to obtain limited run reprints of those neighborhood tour booklets which were previously out of stock.  All nine prior years, 2011 through 2019, are now available.
X


2011 – The Heart of Amsterdam
2012 -Amsterdam's South Side
2013 – Amsterdam's West End
2014 – Amsterdam's Rockton
2015 – Amsterdam's Old Town
2016 – Amsterdam's Reid & Park Hills
2017 – Amsterdam's East End
2018 – Amsterdam's Northern Neighborhoods
2019 – Amsterdam's Architecture

A second chance to complete your collection!
Click

here

for Details
XXX
****************************
HAL's Amsterdam Postcard Series now includes 48 scenes
In the late 19th and early 20th centuries there were literally hundreds of postcards of Amsterdam printed.
These cards were a source of civic pride and showed friends, relatives, and acquaintances worldwide that "this is Amsterdam".

Few cards of Amsterdam were produced in recent years until the Historic Amsterdam League initiated production of annual sets in conjunction with the neighborhood tour programs.

The HAL series now includes 48 cards – six more are on the way for 2018 – and it will continue to grow through the coming years.   Get the set for "your" part of the city, start or add to your HAL postcard collection, or just pick up an individual card or two to send out into the world and once again announce that
"This is Amsterdam".
Click

the links below for details and ordering information

2018 – Amsterdam's Northern Neighborhoods (coming soon)

xxx
Still Available
2011 HAL "Heart of Amsterdam"
Special Postal Cancellations
Click
here
for details
XXX
****************************
XXX

Amsterdam Icons Calendars 2012-2021
(Amsterdam Icons was not produced for 2020)
xxx

xxx




Each year from 2012 to 2021 (except 2020) the Historic Amsterdam League introduced a new Amsterdam Icons calendar for the coming year themed to some aspect of Amsterdam history.

Accompanying each monthly illustration was a brief paragraph providing pertinent information and historic facts; the centerfold continued the annual theme with additional relevant text and/or pictures.

Scattered throughout the monthly date listings, in addition to the usual holidays and observances, were important, entertaining, and often little known dates from local history.

Many editions with their frame-worthy pictures were sell-outs and quickly became collector items.
xxx

Copies of several year Amsterdam Icons calendars are still available.
xxx

Click

here

for Details