>> Amste

rdam

Icons

2016 <<



Yes, it is coming and will be here in time for holiday giving – Just taking a little longer than expected!
Thank you for your patience!



****************************
Ghosts of the Past Tours 2015
Friday and Saturday October 23rd and 24th



Thank you to everyone that attended and made this another sell-out year!

****************************
Great Christmas and Holiday Gifts!
2015 Old Town Booklets and Postcards
Available at The Bookhound, Old Peddlers Wagon, or by mail directly from the Historic Amsterdam League.  2015 Tour Booklets are also available at the Amsterdam Free Library and the Walter Elwood Museum

*** Click Here for Details ***
****************************
HAL Donated $1,100 to the Fund for the Repair of the Amsterdam Free Library Roof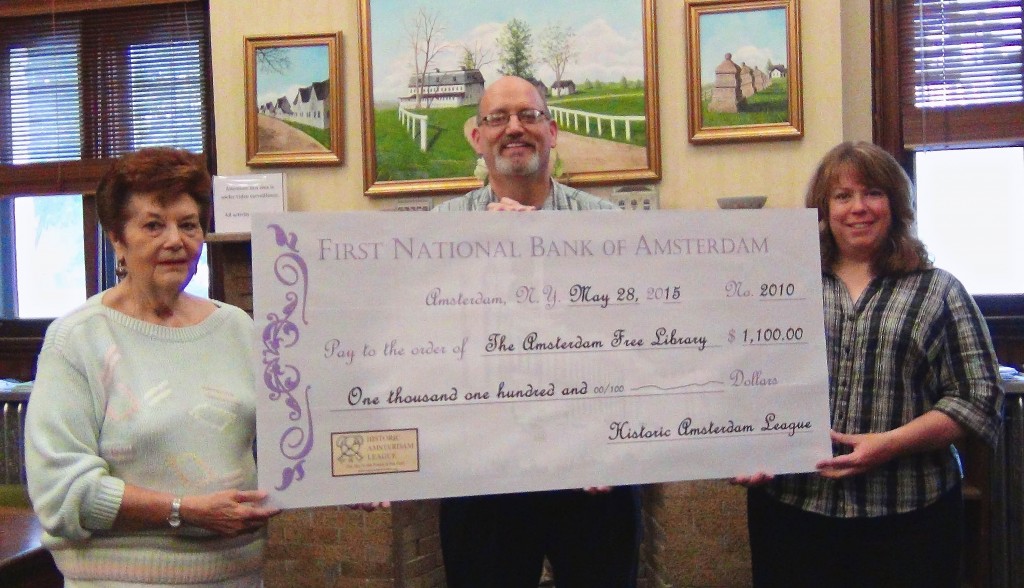 (Left to Right) Membership Chair Marie Villa and Historic Preservation Chair Dan Weaver present the HAL donation to Amsterdam Free Library Director Nicole Hemsley
xxx
XXXX
Join HAL Now!
Membership forms are available at:
Amsterdam Free Library
The Book Hound – 16 East Main Street
City Hall – Office of Economic Development
This Website – Click Here
****************************
Welcome!
Welcome to the Historic Amsterdam League (HAL) web site. The Historic Amsterdam League was established in July of 2010 in conjunction with the celebration of the 125th anniversary of the 1885 chartering of the City of Amsterdam, N.Y.  HAL is a nonprofit and nonpartisan citizen based organization dedicated to the preservation, promotion, and protection of the physical, cultural, and natural heritage of the City of Amsterdam N. Y.
Please take a few minutes to explore our site – learn a bit more about our city and its past, view the photo, postcard, and newspaper clipping galleries, drop us a note, ask us a question, post a comment to one of the stories or articles, check out the latest forum threads, explore the links - and make yourself at home.  If you like what you see and believe that history and heritage aren't just what happened yesterday, but are the road that led us to where we are today and the path that can show us the way to tomorrow, consider joining us on that journey - we'd be honored to welcome you as HAL's newest member!
Please note that our website is a work in progress and new features will continue to be added as they are completed.
****************************
Still Available
2011 HAL "Heart of Amsterdam"
Postcards

and

Special Cancellations
Click here for details and locations
<<>>

2012 "Amsterdam's South Side"
Postcards
Click here for details and locations
<<>>

2013 "Amsterdam's West End"
and
2014 "Rockton"

Booklets and Postcards
Click here (2013) and here (2014) for details and locations
****************************
And to complete your collection
Amsterdam Icons 2013 and 2014

calendars



> Amsterdam Icons 2014 <

> Amsterdam Icons 2013 <

Now just $4.00 each
Click here for details
>>Amsterdam Icons 2015 is SOLD OUT<<
****************************

The Key to the Future is the Past